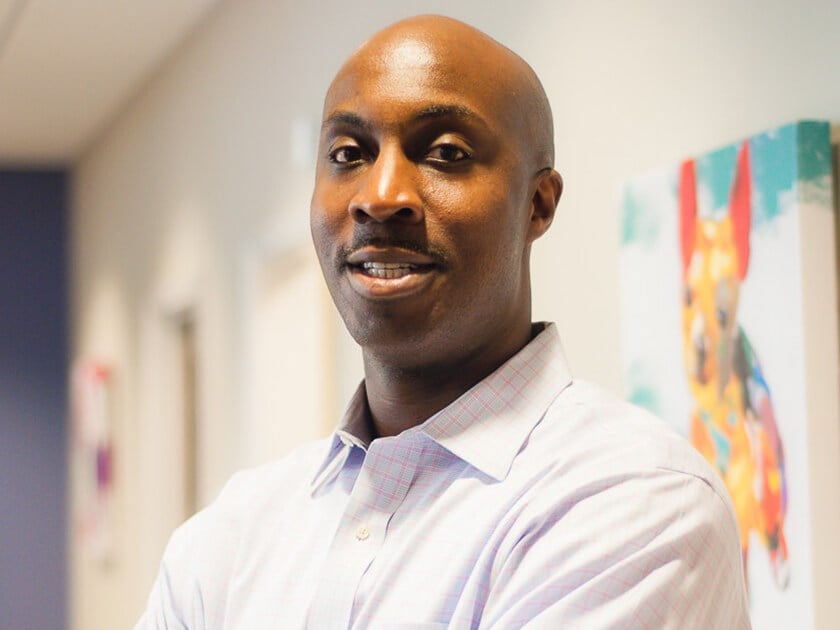 Board-certified pediatric dentist Dr. Adesegun Tewogbade takes great pride in serving the dental needs of children near his Georgia hometown where he was once a young boy himself. With advanced training and skills, Dr. T is highly qualified to provide dental care to children, from toddlers to adolescents. At First Class Pediatric Dentistry in Snellville, GA, Dr. T takes his time to educate patients and their families about their growing child's oral health. His goal is to provide every patient with compassionate, high-quality care, creating brighter, healthier smiles for life.
Over the years, Dr. T has treated a wide variety of pediatric dental patients. Dr. T also specializes in special needs dentistry, providing optimal dental care to children with special needs. He provides a broad scope of general dentistry services, from dental exams and cleanings to sealants, tooth-colored fillings, fluoride treatments, and more. Among cosmetic, restorative, and endodontic dentistry treatments offered by Dr. T are home teeth whitening, dental crowns, and Invisalign. He is experienced in caring for special needs patients and those who experience dental anxiety. For this reason, sedation dentistry options are available to provide the most comfortable dental treatment possible.
Dr. T was born and raised in the nearby Stone Mountain-Lithonia area of Georgia, just a few miles outside of Snellville. After graduating from Lithonia High School, Dr. T followed his passion for math and science by pursuing a chemical engineering degree from the Georgia Institute of Technology. From there, he obtained his doctor of dental medicine (D.M.D.) degree at Harvard School of Dental Medicine where he discovered his love for treating the youngest patients, making pediatric dentistry the perfect fit. Dr. T completed his pediatric residency at Baylor College of Dentistry in Dallas, TX before returning to Georgia to work for a group practice. Eventually, he branched out to begin his own practice in 2008.
Dr. T is proud to be active in the following dental organizations:
American Academy of Pediatric Dentistry, Council Member
American Board of Pediatric Dentistry, Examination Committee Member
American Dental Association, Member
Georgia Academy of Pediatric Dentistry, Member
Georgia Dental Association, Member
Dr. T began serving his local community during his youth and considers it an honor to continue giving back today. He volunteers at Snellville area elementary schools and soup kitchens and is an active member and volunteer at his church. Throughout the year, Dr. T and his family take part in annual service events organized by Hands On Atlanta. First Class Pediatric Dentistry is pleased to support a number of community partners, including several local elementary schools and child care centers.
Reviews
"Yes, this was my son's 1st visit. Staff was clean, patient, professional, and polite. I spoke with Dr. T; He was kind and humorous just as some of the other reviews has stated. I look forward to seeing this staff again for future visits. Keep up the good work. I give this Dentistry a First Class rating. Thanks!"
A.M.
Google
"Dr. T and his staff are great. They are friendly and patient with the children. They are very informative about what my children need for routine care. I will continue to bring my children here. Great Dentist for Children."
T.H.
Google
"They take good care of you! Thank you Dr. T and Cameka!!"
T.P.
Google
"My son's are 9 and 14yrs old. They both have been seeing Dr. T since they were 1yr old at the old office. I'll follow them to wherever they move or go to. My kids look forward to their dentist appointments, which says a lot. Absolutely love them."
S.G.
Google
"Been going here for years! Dr T and his staff has always been friendly and professional and do good work. Both of my kids love it here and you should try it, u won't be disappointed"
V.C.
Yelp